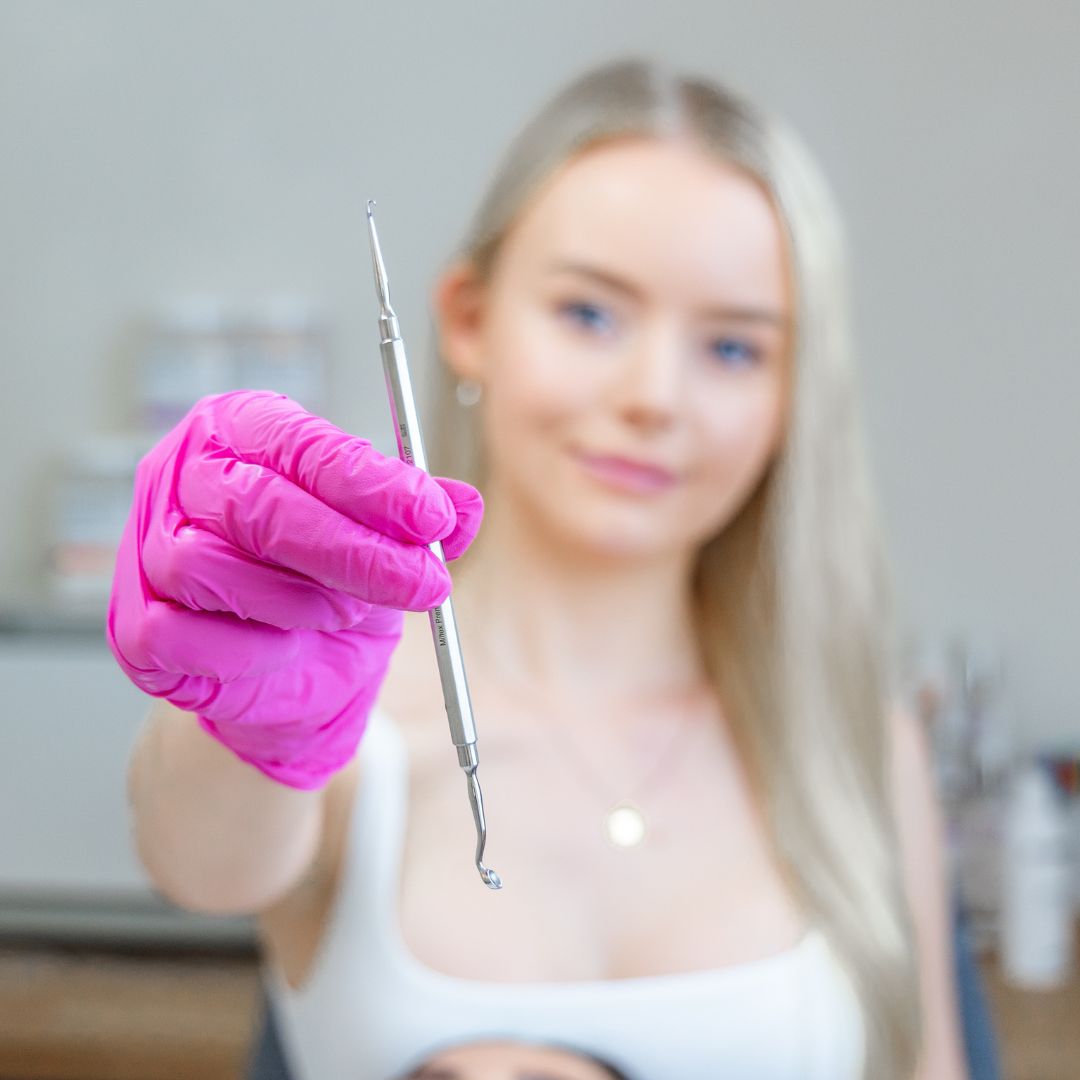 Acne Bootcamp
The Vancouver Aesthetician's Acne Bootcamp involves a customized regimen of clinical grade products and treatments spaced two weeks apart. You will be educated about aggravating factors such as food, medication, cosmetics, stress, and pore-clogging skin care ingredients. Unlike other providers, this is a holistic program that focuses on lifestyle changes, not just product and treatment.
Reserve Your Spot
How Does It Work?
Step 1: Acne Specialist Consultation
During your Acne Consultation we will do a full lifestyle audit and skin analysis to determine what is aggravating & causing your acne.
Step 2: Get a personalized treatment plan
Based on your consultation, we'll develop a tailored treatment plan targeting your specific needs and factors contributing to your acne.
Step 3: Follow your home care recommendations
Incorporate our lifestyle & diet recommendations into your daily routine as well as use your custom medical grade skincare regimen (product costs are additional)
Step 4: Treatments every two weeks for 3-4 months
Regular treatments, scheduled biweekly, ensure optimal results and consistent progress in your journey towards clear skin.
Step 5: Enjoy your clear skin and new found confidence
Celebrate your clear, radiant skin and a boost in self-esteem.
Step 6: Maintain your results
We'll provide guidance on sustaining your results, empowering you to preserve your newfound skin health and confidence long-term.
Included in your Acne Consultation
1. Lifestyle Audit

A full lifestyle audit to determine what is aggravating + causing your acne. Such as diet, ingredients, stress, sleep, supplements, food aggravators and more!

2. Skin Analysis

Determine your acne type, severity & personal acne triggers.

3. Treatment Plan

Determine how to treat your acne through a combination of proper skincare, in clinic treatments & lifestyle adjustments.

4. Personalized Routine

Get a personalized skincare routine specific to your acne and skin type (product costs are additional).

5. Professional Advice

Useful, personalized advice on how to treat your specific type of acne as it pertains to your individual habits + lifestyle.

6. Info Packet

You will be sent home with an Acne Information Packet that summarizes what we discussed in the consultation so you can use it as an ongoing reference.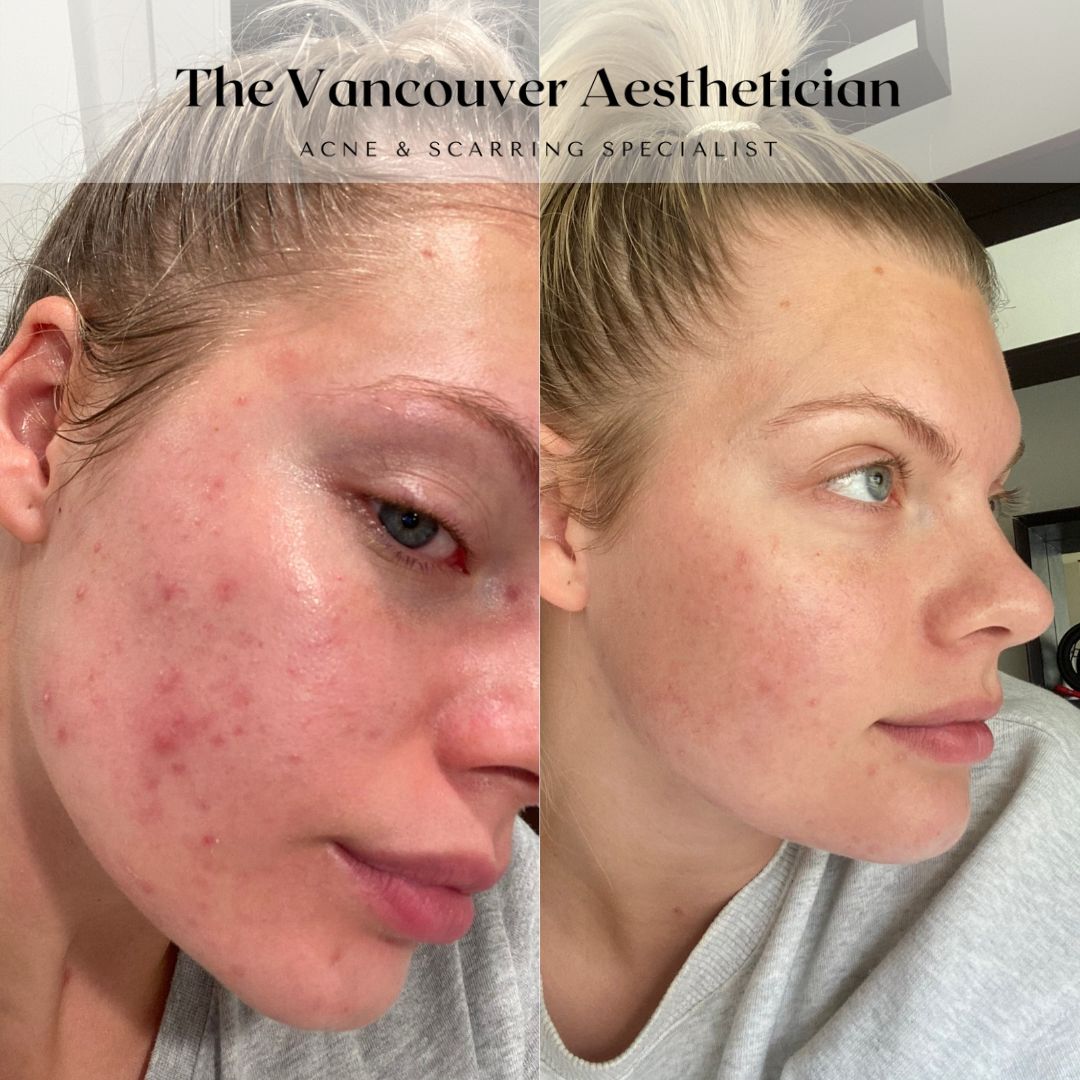 3 Months
Our Acne Bootcamp has helped countless clients like this one see major improvements in just 3 months. This client struggled with combination acne, but with our personalized approach, we were able to create a regimen and treatment plan that worked for her skin type.
Reserve Your Appointment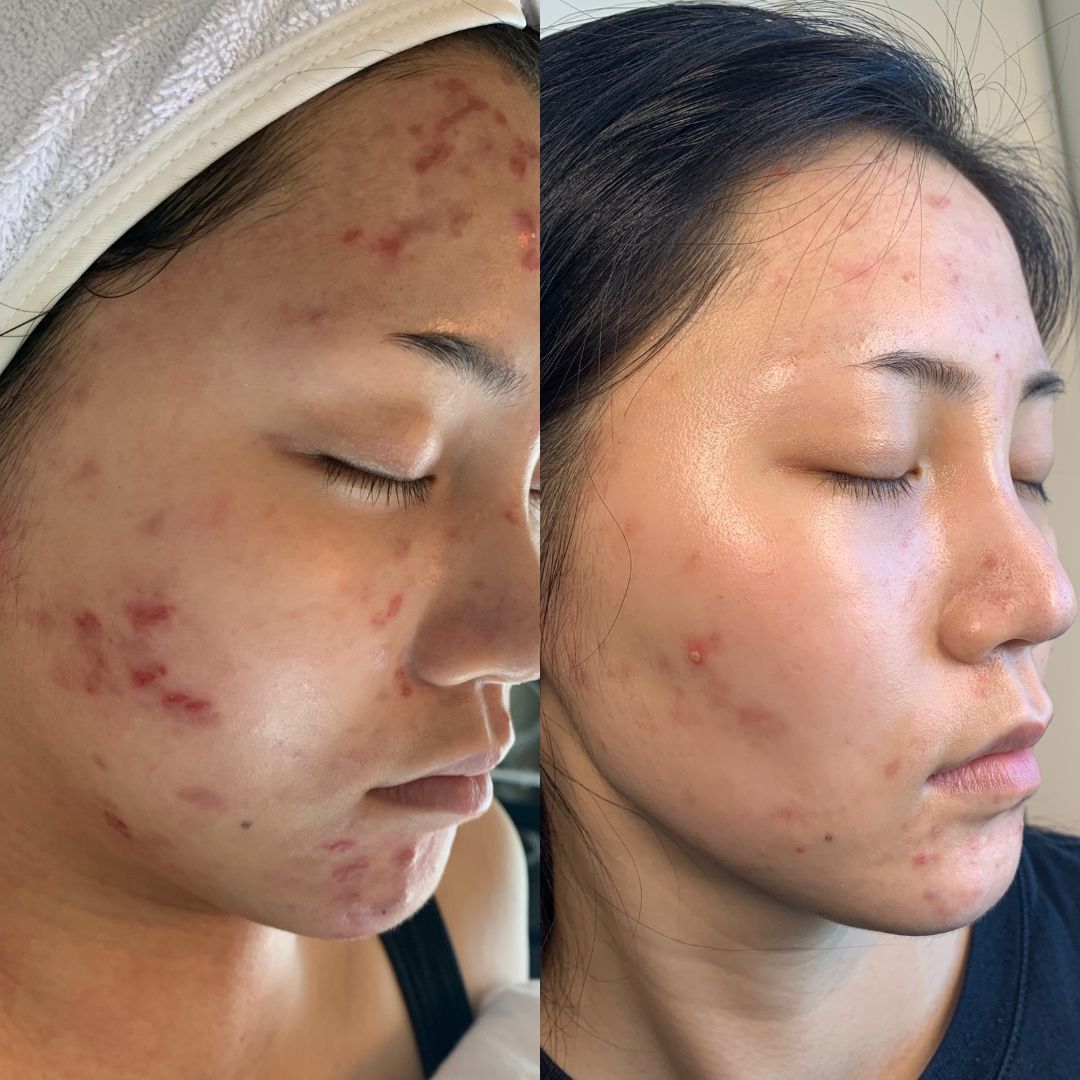 2 Months
In just 2 months on our Acne Bootcamp, she saw amazing improvement by committing to treatments every two weeks and using our recommended homecare products. One of the biggest challenges she faced was picking at her acne breakouts, but with our guidance, we were able to help her overcome that habit and achieve the skin she deserves.
Reserve Your Appointment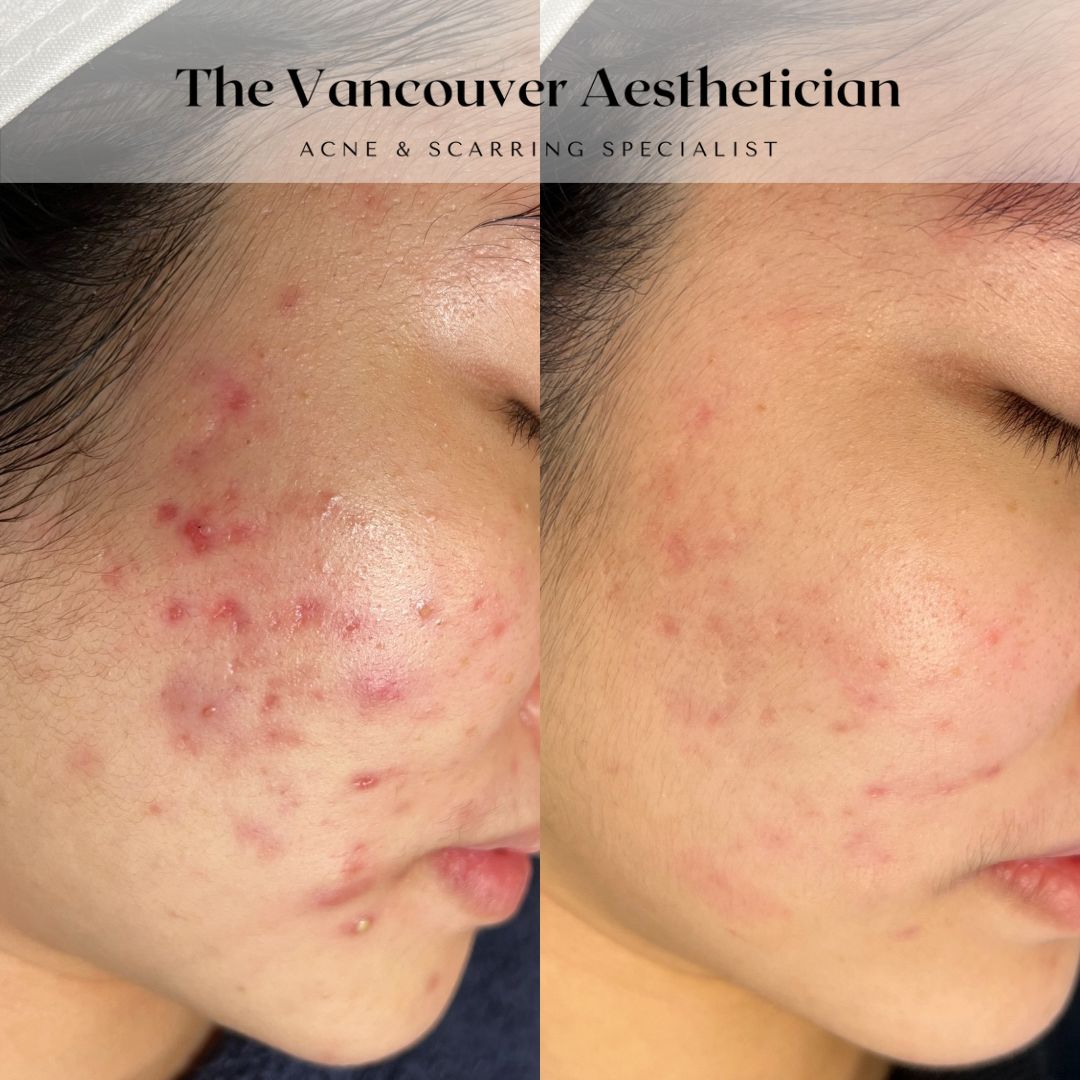 3 Months
With treatments every two weeks and using our recommended homecare products, she saw amazing improvement in her acne and scarring. But it wasn't just about the products - we also made some lifestyle adjustments with her diet, supplements, and skin picking habits to help achieve these incredible results.

Reserve Your Appointment
FAQ's
What if I have sensitive skin?

If you have sensitive skin, rest assured that you can safely participate in our Acne Bootcamp. Our team has extensive experience working with highly sensitive skin and we can provide expert guidance to help you heal your skin effectively.
If I book the Acne Consultation, do I have to join the Acne Bootcamp?

You are not required to enroll in our Acne Bootcamp program. Through our Acne Consultation, you can gain valuable insights into your acne, including what causes or worsens it. You will also receive beneficial recommendations to help you achieve clearer skin. However, we strongly suggest that you consider investing in our recommended home care regimen, which is a vital aspect of achieving clear skin. This regimen comprises 4 to 6 products, and its cost varies based on your acne type, with a minimum investment of $200-$400 for the complete routine (rather than individual items). You will receive detailed pricing information during your Acne Consultation.
How much does the Acne Bootcamp cost?

The cost of the Acne Bootcamp will differ depending on the type and severity of your acne, as well as your level of commitment to the recommended lifestyle adjustments. We offer membership pricing that can help you save money on both treatments and products. To establish a complete home care regimen, you will need to make a minimum investment of $200-$400, which covers the entire routine, not just a single product. At your Acne Consultation, we will provide you with detailed pricing information.
How much do home care products cost?

Our recommended home care regimen generally includes 4 to 6 products, and its cost can vary depending on your acne type. To establish a complete routine, you will need to make a minimum investment of $200-$400, which covers the entire set of products and not just a single item.
Do I have to use your products? / Can I use my current skincare products?

The power of good skin care is often underestimated by people. It's crucial to choose the right skin care products that suit your acne and skin type. Surprisingly, your current skin care products may actually be worsening your acne as they often contain ingredients that trigger breakouts, which we will assess during the Acne Consult.

To achieve clear skin, our recommended home care regimen is tailored to your unique skin and acne type. We offer clinical-grade products that are free from pore-clogging ingredients. Our entire product line is specially designed for acne-prone skin and plays a critical role in achieving a clearer complexion.
Will my acne get worse before it gets better?

During the Acne Bootcamp, some clients may undergo a process called purging. However, experiencing purging does not indicate that the program is ineffective. Rather, it implies that your skin has had acne forming under the surface all along, and your new product routine is accelerating the breakout process. Fortunately, once the breakouts surface, our products and treatments can assist in eliminating them.

It's worth noting that every client's skin is unique, and not everyone will experience purging. But for those who do, it's a normal part of the acne-clearing process, and we assure you that you'll get through it.
How does this compare to Accutane and antibiotics?

We have successfully assisted clients who have undergone two rounds of Accutane or antibiotics. Unfortunately, for some individuals, acne returns after completing medication.

Acne is a hereditary condition that affects the pores. In acne-prone skin, dead skin cells accumulate within the pores at a significantly faster rate than in healthy skin. While a healthy pore sheds one layer of dead skin cells per day, acne-prone pores can shed up to five layers per day. This phenomenon is known as "retention hyperkeratosis," whereby dead skin cells shed more quickly than the pore can expel them. Antibiotics are unnecessary for addressing this issue.

Since acne is mainly caused by excessive dead skin cells, the solution is to use products that penetrate and unclog the pores while preventing future buildup of dead skin cells, thereby preventing the formation of new acne. Antibiotics only target bacteria associated with acne and do not address the primary issue of retention hyperkeratosis.

You may have multiple acne triggers, including your diet, habits, medications/supplements, and pore-clogging ingredients in your skin care products. Antibiotics only address one aspect of acne and do not target these other triggers. In our Acne Bootcamp, we will assess all of your acne triggers and provide recommendations for lifestyle changes.

While Accutane and prescription acne medications may be effective for some individuals, taking them long term is unsafe due to the significant side effects. These side effects include the risk of birth defects, depression, psychosis, Crohn's disease, internal organ damage, muscle and bone loss, central nervous system damage, and immune system disorders. In contrast, the side effects of our acne treatments are minimal, typically limited to occasional dry skin that can be resolved with moisturizer.
Will this help with dark spots, acne scarring?

The acne treatments provided during our Acne Bootcamp can help lighten PIH (Post-Inflammatory Hyperpigmentation) or dark spots resulting from acne. However, if you have pitted acne scarring, you will probably need a series of Microneedling sessions after your acne has cleared. Please note that if you still have active acne, you cannot undergo Microneedling. It is essential to address the underlying cause of the hyperpigmentation/dark spots by resolving your acne first.
Will I need to change my diet?

While our program is not primarily focused on dietary changes, your acne specialist will discuss certain foods that may exacerbate the severity of your breakouts. We will provide you with a straightforward list of key foods that could be problematic for acne-prone skin, enabling you to make informed decisions about your dietary choices. We highly recommend that you consider cutting back on these foods.