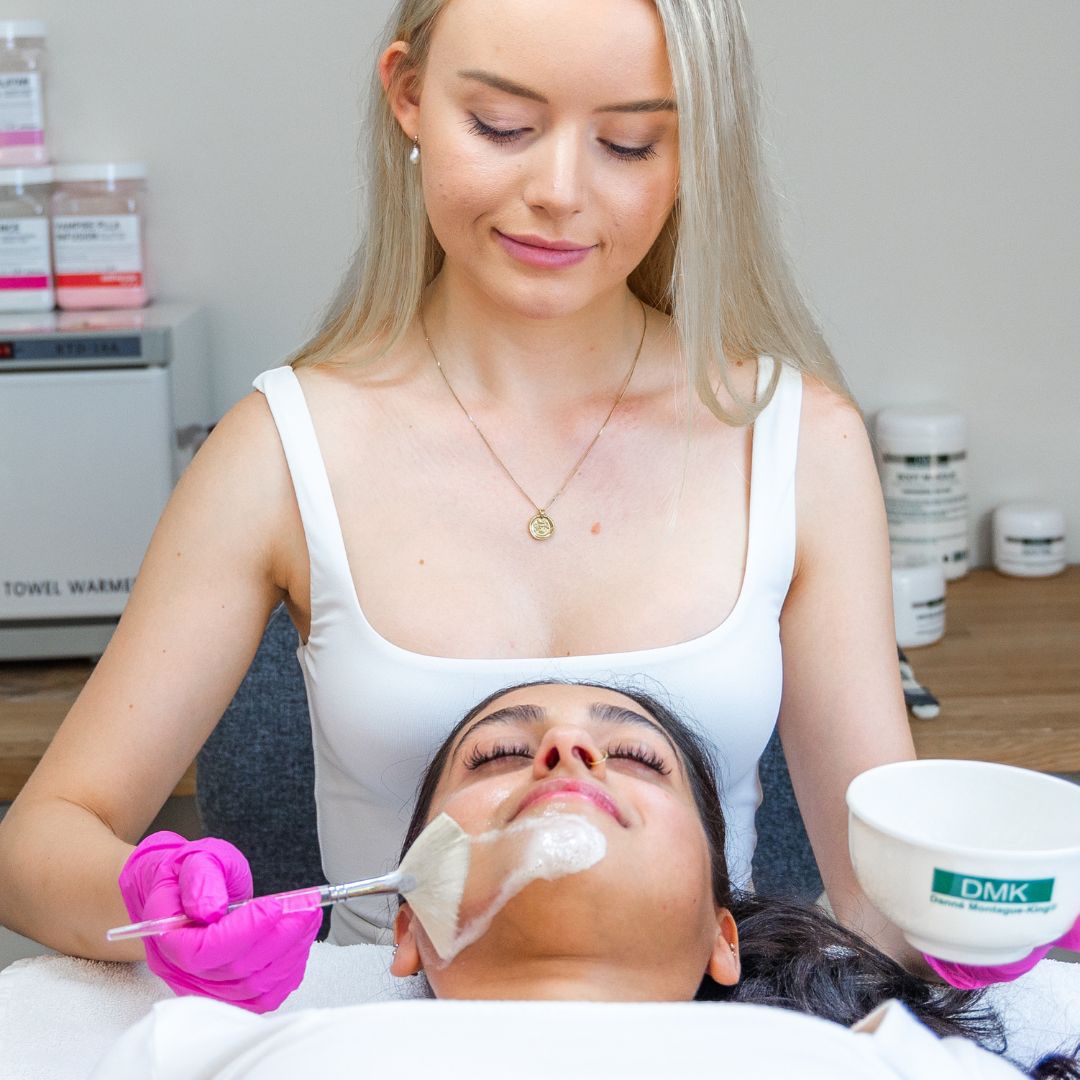 DMK Enzyme Therapy
DMK is the only company in the world to utilize the beneficial effects of transfer messenger enzymes. The DMK Enzyme Masques have the ability to penetrate the skin, tightening and contracting the fragile underlying muscles directly under the fascia. All masques have the ability to promote a plasmatic effect in the skin, offering true oxygen therapy from within the blood stream rather than applying oxygen to the skin's surface. DMK Enzyme Therapy works with the skin rather than merely acting on the surface.
Reserve Appointment
How Does It Work?
DMK Enzyme Therapy focuses on improving tissue oxygenation, which is vital for skin health and cellular function. The therapy works with the body's chemistry and circulatory system to increase oxygen levels, leading to the 'plasmatic effect.' This effect, achieved by dilating peripheral capillaries, promotes fresh oxygenated blood flow to the skin cells, enhancing overall skin function and appearance. The results of DMK Enzyme Therapy surpass those of traditional oxygen-based treatments, offering a more effective and efficient approach to skin care. DMK's focus is to improve skin function. Different to the typical approach of most cosmetic companies, DMK avoids quick fixes and strives to improve the long-term health of skin.
Treatments
Signature Enzyme Masque

This treatment includes DMK's Enzyme Masque #1 which is left on the skin for 45min, during that time the mask gets extremely tight and a downwards pressure and pulsing effect is felt in the skin. This treatment is ideal for all skin types and is customizable for all concerns!

Book Here

Enzyme Peel

Includes the Signature Enzyme Masque plus DMK Quick Peel. Quick Peel breaks down dead cell build-up with lactic acid. It creates a pseudo heat to flush out surface toxins and dilate capillaries. Quick Peel works to rapidly to reduce inflammation, kill infection and improve the functionality of skin with poor healing capacity. This treatment is ideal for reactive skin, skin tone issues, rosacea, pigmentation, and acne.

Book Here

Muscle Banding

This is an age management treatment designed to fight against the decline that causes aging. Suitable for clients who want a highly effective age management treatment that will prevent the signs of aging from manifesting rapidly. The term "banding" refers to the technique used during the application of the DMK Enzyme Masque which is designed to act directly upon the muscles of the face. The treatment instantly lifts and firms the skin. Highly recommend for anyone experiencing any signs of sagging or loss of elasticity in the face, neck or decollete area. This treatment is like getting a non-surgical facelift!

Book Here
What Are Enzymes?
Enzymes are proteins that act as biological catalysts, orchestrating all molecular activity in the skin and body. They can remove dead protein, toxins and effluvia from the skin, increase free water levels, and stimulate RNA activity, which activates enzymes present in the skin to ensure that certain messages are carried across the cell membrane. DMK enzymes can keep skin cells alive and remove the burden of dead cuticles, which cause dry, wrinkled, and uneven-toned skin.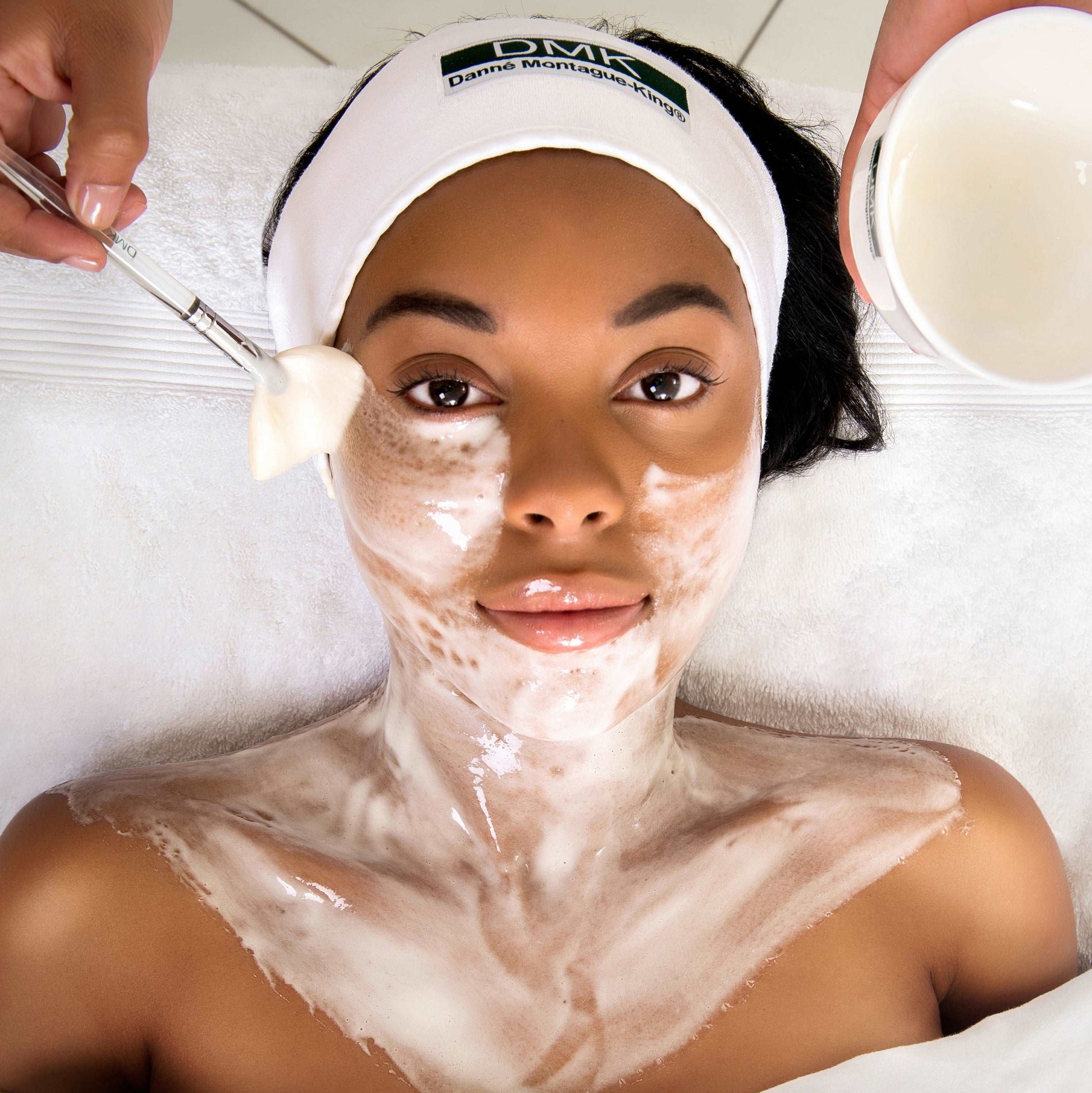 DMK Skin Restart Package of 6
Regular price
$1,170.00
Sale price
$994.50
Unit price
per
Sale
Sold out
Share
View full details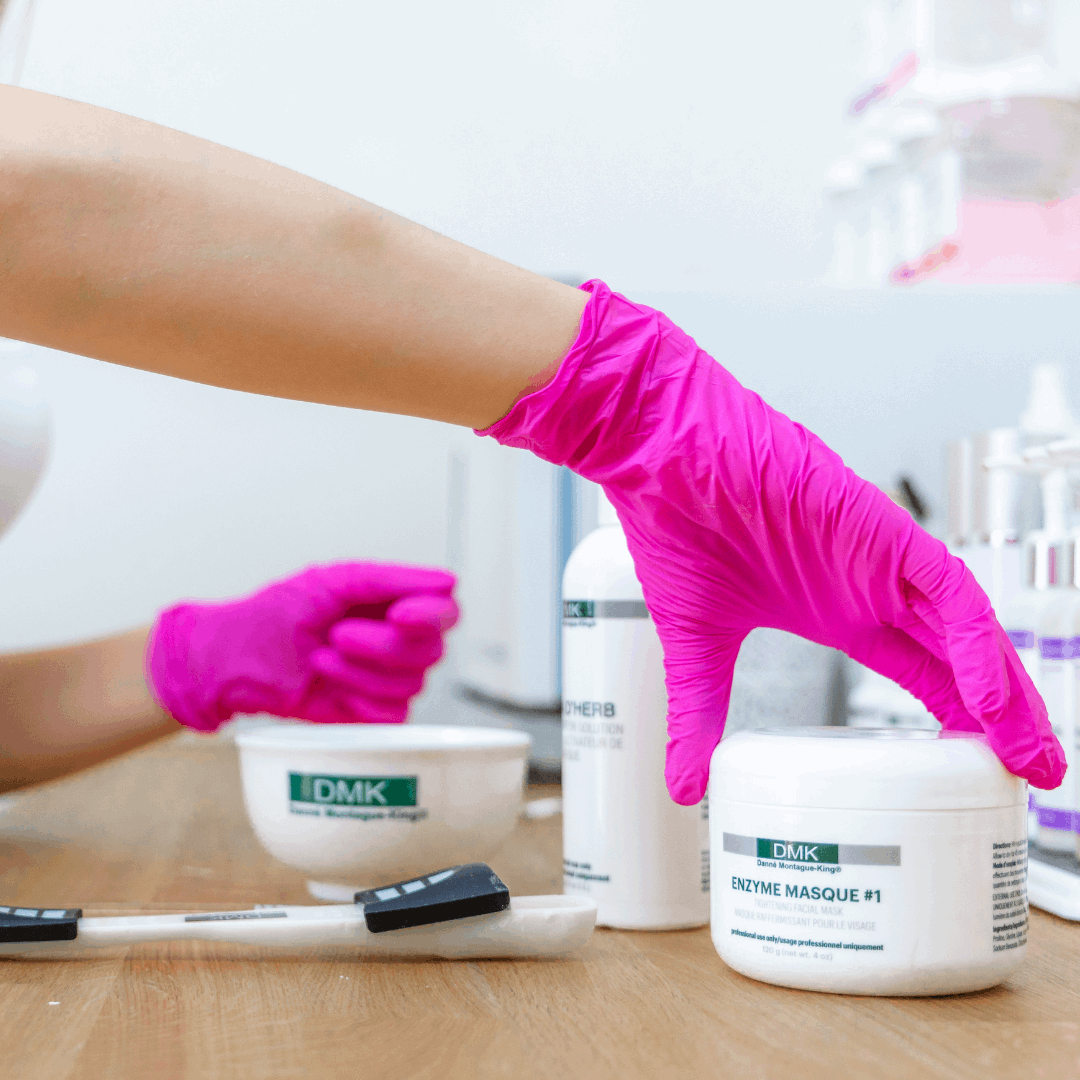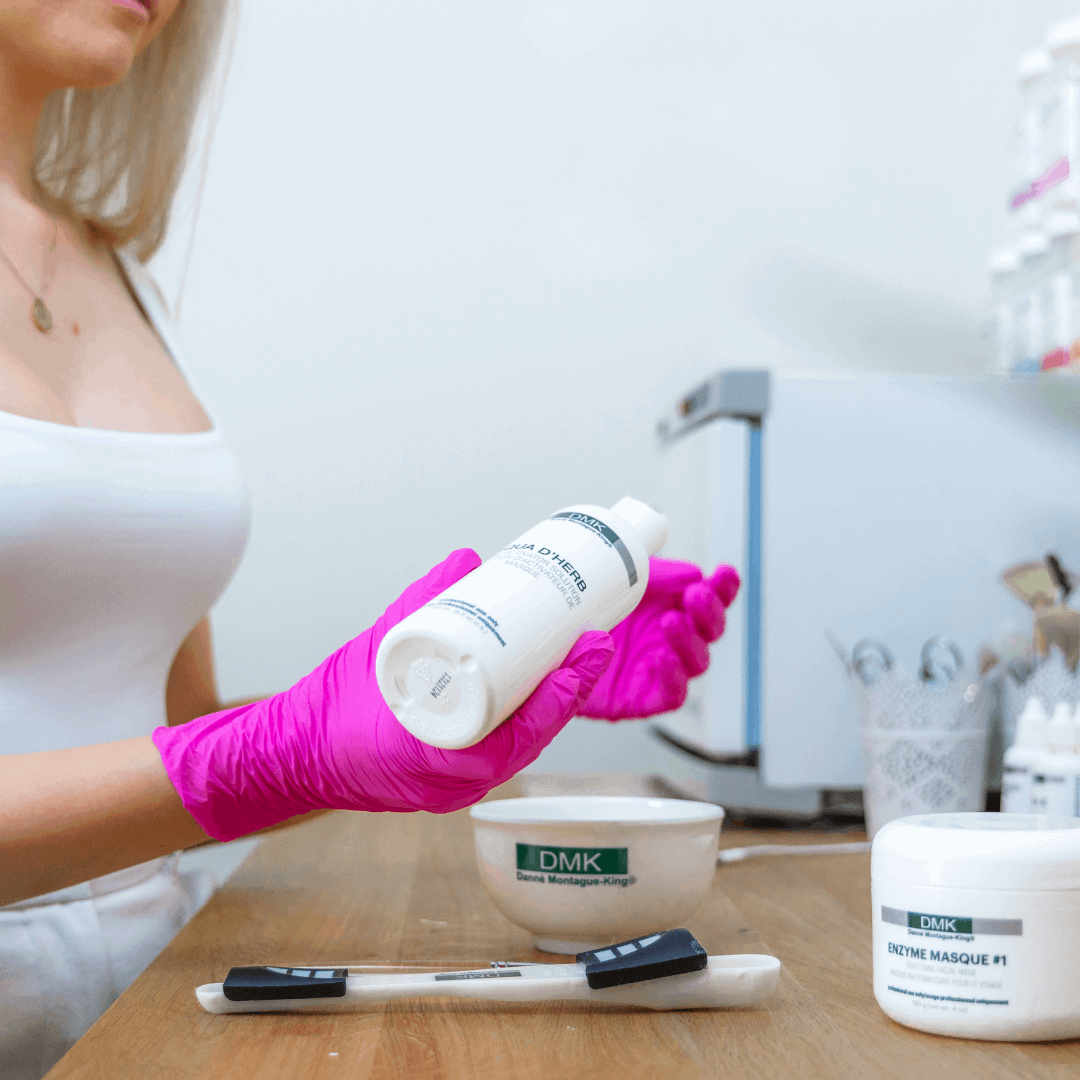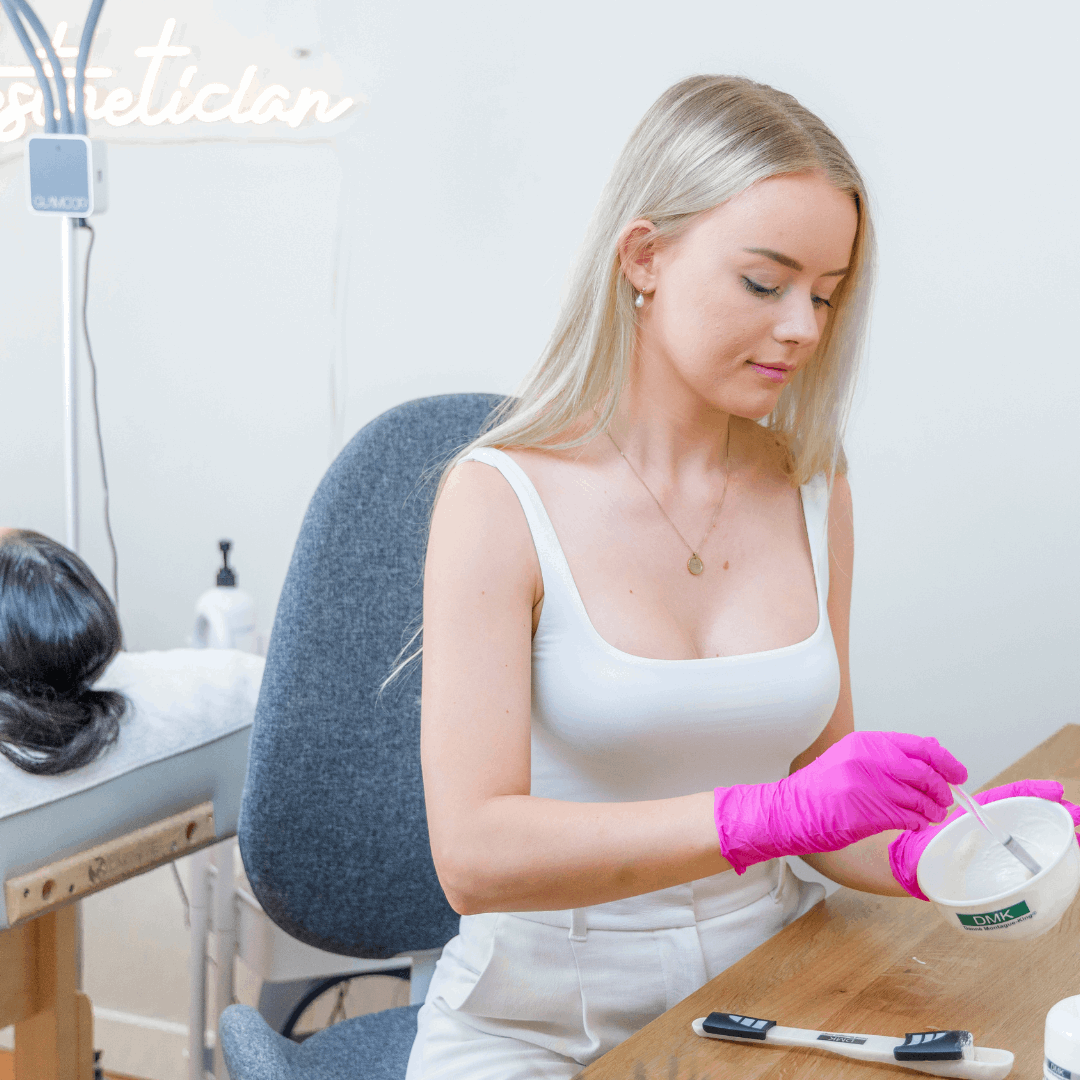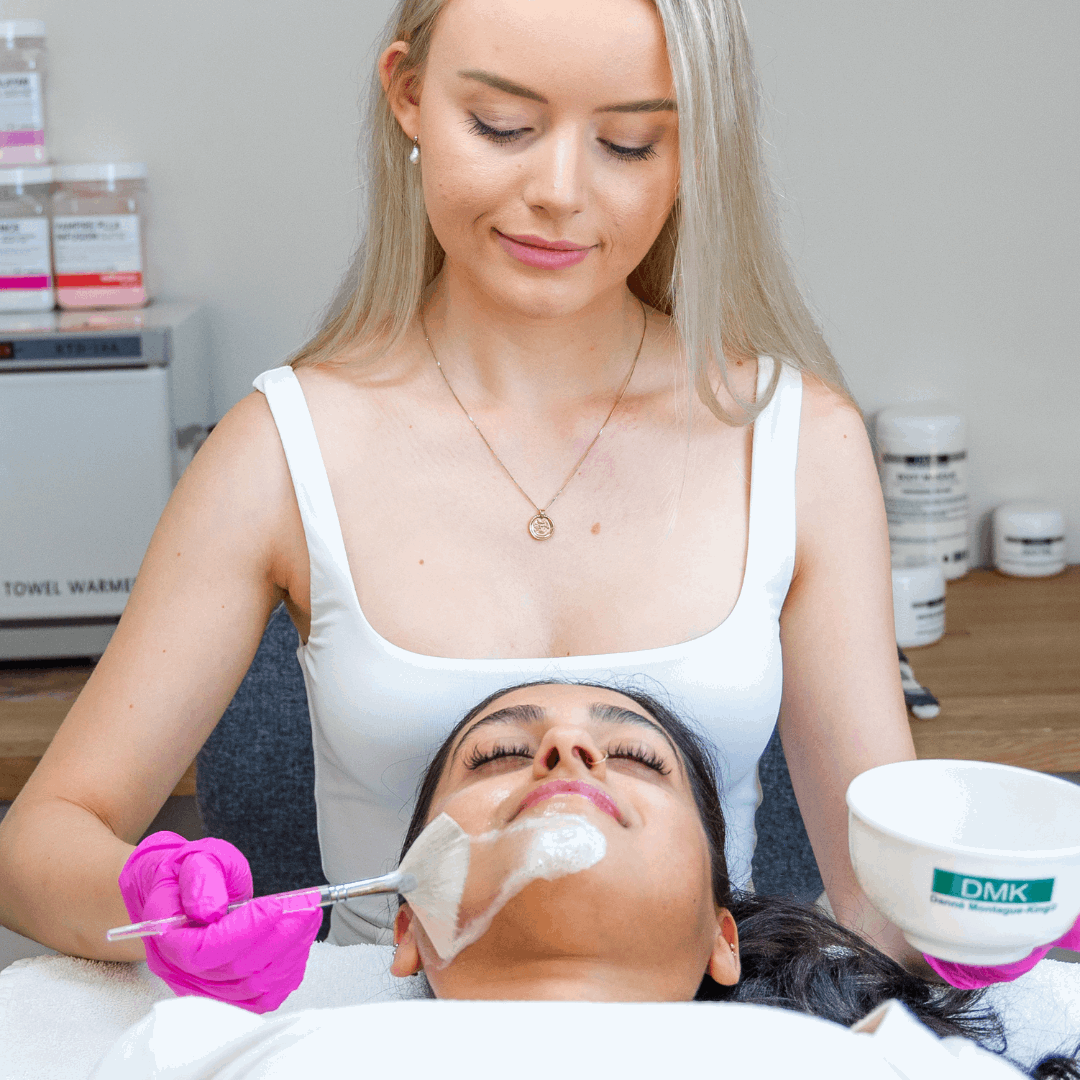 FAQ's
Can I have DMK treatments and not use the recommended products after?

DMK's concept of REMOVE, REBUILD, PROTECT and MAINTAIN utilises the signature Enzyme Therapy treatments to encourage the revision and rebuilding of new more optimally functioning cells for healthier younger-looking skin. Our Home Prescriptive products then enhance, protect and maintain these results. Only having treatments and not using products or vice versa means we cannot guarantee the incredible results that are possible.
How many treatments do people typically need?

The number of treatments you require varies depending on the severity of your skin condition, how long you have had it, and if there are any underlying contributing factors. Book a skin consultation with a DMK Skin Revision Technician, they will be able to create a customized treatment and Home Prescriptive program best suited to achieving your dream skin!
How long will the results from one DMK Enzyme Therapy Treatment last?

After your DMK Enzyme Therapy treatment, you can expect the beautiful glow, silky texture, and juicy plump appearance to last on average, a minimum of one week. With consistent treatments and the use of your DMK Home Prescriptive products, the longevity of your results increases extensively. Once we have achieved your skin goals, your DMK Skin Technician will adjust your skin regime to a maintenance program to ensure you keep the results you have achieved.
Why is my skin breaking out after treatments?

It is perfectly normal to experience breakouts after DMK treatments, though they are not causing them. This is a process we call 'purging', which is when our treatments release underlying congestion trapped deep down within the pores and pushes it up to the surface. We see this is a positive response as we are waking up skin functions that were not working optimally. We want to encourage purging as part of the REMOVE phase of the DMK concept. With consistent treatments and use of your DMK Home Prescriptive products these breakouts will clear up as quickly as possible.
What is the plasmatic effect/red marks/visible red veins after an Enzyme Therapy treatment?

If you have had a crisscross of red veins appear where your Enzyme Masque was after a treatment that is fantastic! It means that your capillaries have been flushed of toxins and the blood has been loaded up with fresh oxygen and nutrients to deliver to your skin cells. DMK calls this the Plasmatic Effect and it is a great way to determine how optimally your skin is functioning. The stronger the Plasmatic Effect the healthier your skin! It does not hurt, nor does the skin experience any change in temperature due to the Plasmatic Effect. Usually about 10-20 minutes after a treatment the Plasmatic Effect will disappear entirely, leaving you with post Enzyme glowing skin!
Which products are not recommended during pregnancy?

It is highly recommended to ask your health care professional before using any of the DMK products during pregnancy or before taking the EFA Ultra.

Products not recommended to use include:
Cassia/ cloves – Acu-Therm, Body Enzyme, Body Sculpting, Enzyme #3, Foamy Lift, Quick Peel
Retinol/ retinyl palmitate – Revitosin, Revise A
Salicylic acid – Acu Klear, Acu Klenz, Acu Mist, Red Vein Crème, Revise A, Pro Alpha #2
Others – Acu Masque.
Is DMK natural and organic?

DMK uses 99% active botanical ingredients, which need to be carefully preserved. That is why DMK uses 1% chemical preservatives in some of the formulations because they are the most stable and safest to use for both the consumer and the products. Therefore, DMK is not 100% organic.